Dips, Chutneys And Sauces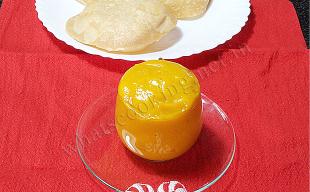 Hindi word Aamras literally means mango (aam) juice (ras). Aamras is popular in Gujarati households during summer months when mangoes are in season. Usually Alphonso variety is used to make aamras. Alphonso is found mostly in Maharashtra and Gujara....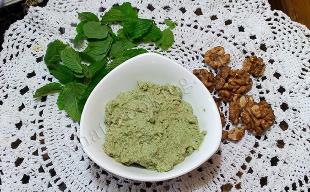 Walnut is considered as one of the healthiest nuts in the world. This is a famous chutney of kashmir, India. This is the basic version.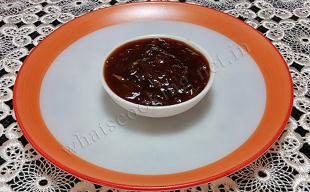 Barbecue sauce or as commonly known as BBQ sauce is a sweet sauce. This sauce is used for marinating, basting of barbecue meat or as filling in sandwiches. The ingredients vary from country to country, but base ingredients include vinegar, tomato p....
Fondue comes from the French word 'fondre', which means "to melt". Fondue is pronounced as 'fon due'. Fondue pot is a dish in which either cheese (cheese fondue) or chocolate (chocolate fondue) is melted with other ingredients to form a thick creamy....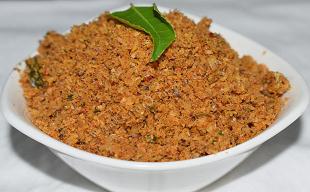 These type of small relishes enliven daily lunch menu of most Keralites. When fresh fish is not available, dry fish is substituted in varios forms. And one form is this chammanthy. It may be a lip smacking dish for dry fish lovers, but a little repul....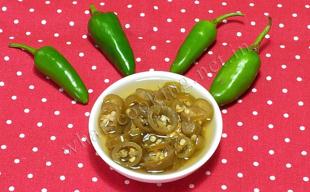 Chillies in vinegar can be made and stored for a month or two. It need not be refrigerated. Comes handy to give a punch to dishes. Jalapeno ('pronounced halapeno') chillies are originally native to Mexico. but similar variety can be found in Ind....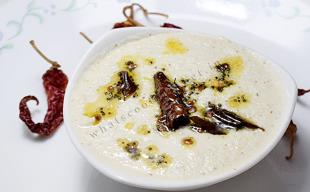 Coconut chutney is an invariable ingredient in South indian cusine. It is served with dosai, idli, medu vada etc.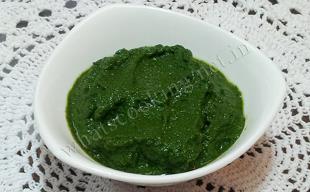 Green chutney can be used either as a dip or as a spread on sandwiches. The word "chutney" is derived from the Sanskrit word 'catni', meaning to lick. In Indian cusine, there are basically 2 types of chutneys--sweet and hot. Coriander leaves are als....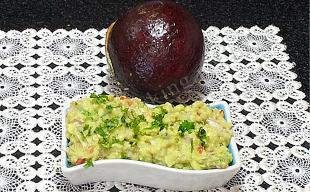 Guacamole prounounced as Gu-ha-ca-mol, is a light green chutney made from avocados. Avocado is also known as butter fruit in some parts of the world. When ripe the skin of avocado turns brown in color. Only ripe avocados are used to make guacamole. ....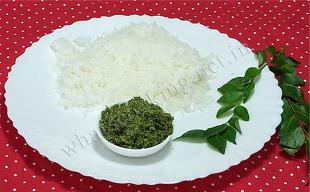 Sambols are fresh or cooked relishes that enliven Sri Lankan meals of rice and curry.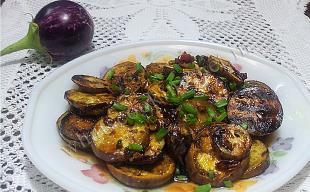 ketjap manis (pronounced Keh-chup mah-nees) is also spelled Kecap manis.Ketjap manis is a thick, sweet, rich, syrupy Indonesian version of soy sauce containing sugar and spices. It's similar to soy sauce but sweeter. The sweetness comes from palm su....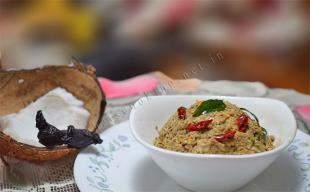 This relish is good for digestion. It is advisable for people suffering from fever & diarrohea. Garcinia Cambogia or kodampuli or Malabar tamarind is a fruit tree, of culinary and medicinal use. The fruit is dark in colour, purple to black color, an....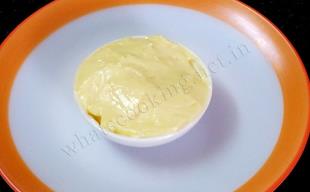 Mayonnaise or Mayo as is often called, is a thick, creamy sauce. It is an emulsion of oil, egg yolks and vinegar or lemon juice. Mayonnaise varies in color, but is often white, cream, or pale yellow. It may range in texture from that of light cream ....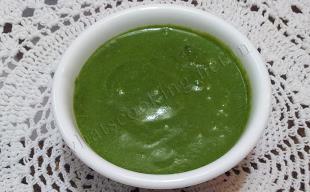 Mint is a very delicate leaf. The leaves have a fresh, sweet flavor with a coolness. These leaves are used in teas, beverages, syrups,ice creams etc. Chopped mint is usually used as garnishing. Cocktails and mocktails also use mint for flavor or ....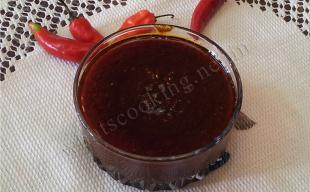 Nam prik pao is roasted chilli paste.Though it is called jam, it is not literally jam as the sweet jam one applies on bread. Rather it can be called a savory jam. it is used in stir fries, salads, as dip etc.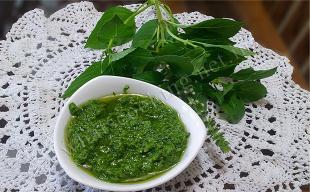 Pesto is an Italian sauce similar to indian green chutney. unlike Indian green chutney, pesto literally floats in oil. In earlier times pesto was ground in a wooden or stone mortar and pestle. First pine nuts and garlic were ground, then basil leave....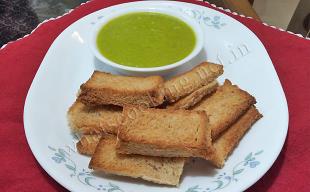 A tasty but simple dip to be made during busy mornings to be had with crunchy toasts.
In Spain, sofrito consists of garlic, onion, and tomatoes cooked in olive oil. This is used as the base for many dishes. Similar preparations are used in the cuisines of countries bordering the Mediterranean Sea, and also some Latin American countrie....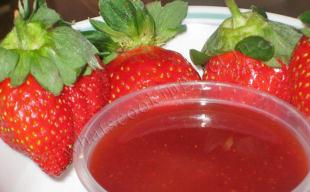 1) Puree strawberry to a fine pulp. 2) Boil everythingh together except cornfl...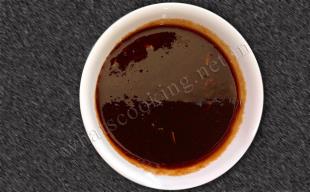 Sweet chutney is added to different indian snacks or is served as a dip. Black salt, known as 'kala (black) namak (salt), a type of rock salt, with strong pungent smell. Contrary to the name black salt, the salt is pinkish in color.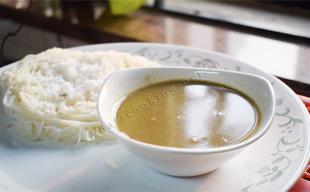 This dip or sauce is served with appam (hoppers) & idiappam (string hoppers). This is a delight for people with sweet tooth.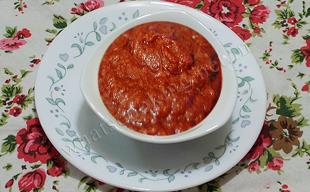 Szechwan is a region in China. The cusine of this region has bold flavours, particularly the pungency and spiciness resulting from liberal use of garlic and chili and sichuan pepper . Szechwan/ sichuan pepper is the outer pod of a tiny fruit. Even ....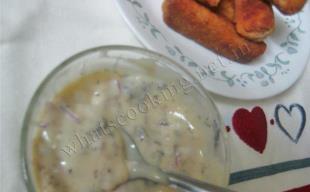 1) Capers are immature buds plucked from a small bush plant. Capers are sold immersed either in salt solution or vinegar. Its good to wash capers before adding to dishes. 2) Gherkins belong to cucumber family and is available in salt solution or vi....