Vegetarian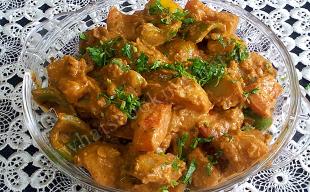 Carom seeds belongs to the cumin and parsley family, carom seeds are tiny, oval-shaped with a sharp and penetrating taste. It has been used since ancient times for its aromatic and medicinal properties. Carom seeds are mostly used in whole form, and ....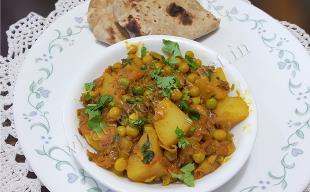 This is a common dish of Punjab, in India. Bolied potatoes and fresh green peas are cooked in a tomato onion gravy. Usually curd is not added, but here i have added curd since slight tanginess from curd makes the dish more tasty.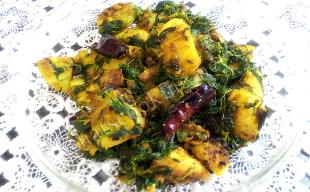 Fenugreek has been used as food, spice and medicine since ancient times. These leaves are considered very effective in combating diabetes. The largest producer of fenugreek is India. In India,the major fenugreek producing states are Rajasthan, Gujar....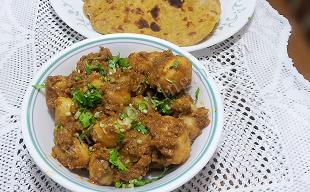 In Bengal Alur dom is served with Luchi, a deep fried bread. Potatoes that are harvested before maturity and are of a much smaller size are known as baby potatoes. These potatoes have a much sweeter flavor than regular potatoes as they are harveste....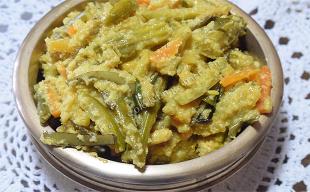 Aviyal, is a must dish in Kerala sadya (Kerala vegetarian feast). It is a mixed vegetable dish with lots of coconut. The commonly used vegetables are elephant yam, ashgourd, snakegourd,string beans, brinjal, raw banana, drumstick and carrot. Also s....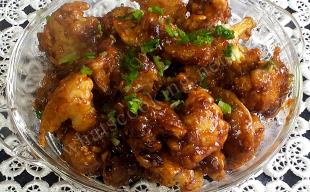 Since this does not have a runny gravy, after the whole process of cooking, can be served as cocktail snack or starter by inserting toothpick on cauliflower. Spring onions are used in Chinese cooking. The taste of these onions are milder. Both the g....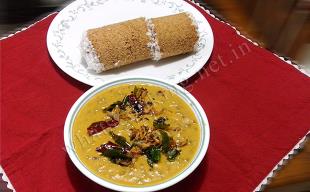 In kerala, South India, Cherupayar (green gram) curry is a combination breakfast with puttu or rice steam cakes. Green gram is available in many forms including whole, split, de-husked (yellow) and ground. Split moong beans or green moong dal is gree....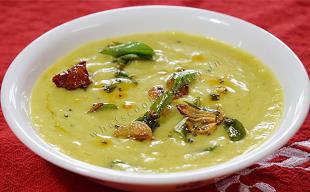 Cheruparippu is moong dal or green gram dal. It is a rich source of protein. Cheruparippu curry is an integral item in Kerala sadya (festive lunch).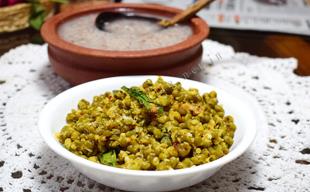 Green gram is native to India. The beans are small, and green in colour. They are generally eaten either whole (with or without skin) or as bean sprouts in salads. In India it is used in savory and sweet form. It is a source of protein and dietary fi....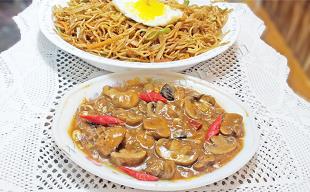 Mushrooms are considered a healthy food with no or minimum calories. A mushroom (or toadstool) is the fleshy, fruit body of a fungus, typically produced above ground on soil or on its food source. Always check expiry of mushrooms. Mushrooms are extr....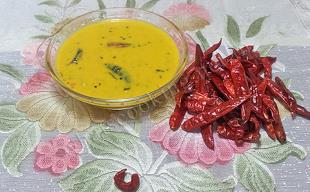 This is a sweet, sour and spicy dish with sweetness given prominence. Gujaratis are generally fond of sweet things. Adjust jaggery according to your taste. Curd has a very important place in the Indian cusine.Curd is a dairy product obtained by curd....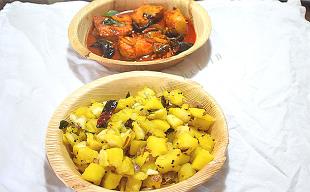 Tapioca or Yuca is a native of South America.The edible part is the root. Tapioca must be cooked in lots of water and water drained out ,after it is cooked to remove toxins. Pearls made from tapioca are known as Sabudana in Hindi / Marathi.Tapioca i....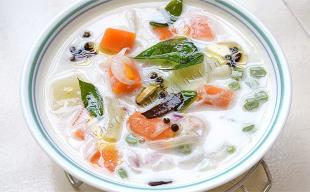 Stew is an integral part of Kerala breakfast. Usually stew is served with hoppers and string hoppers. Any festive breakfast in kerala will have stew, which can either be vegetable, chicken or mutton. Typical stew is mild, sweet and white or creamish ....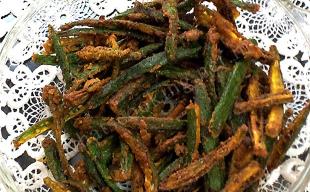 These are the perfect, crisp ladies fingers flavored with carom seeds that you will crave for on any rainy day. Carom belongs to the cumin and parsley family, carom seeds are tiny, oval-shaped with a sharp and penetrating taste. It has been used sin....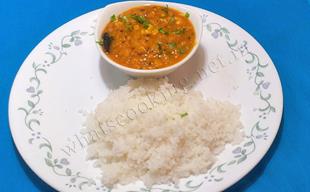 Lasoon is the hindi word for garlic. This dish has a predominant garlicky flavor.Tadka or chaunk is the hindi word for tempering. When tempering, oil or ghee is heated and spices whole or powdered are added. Dal is pigeon pea or any pulse which is d....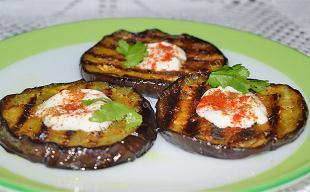 Brinjals are also known as aubergine , egg plant etc.There are different varities of brinjal varying in color & shapes. Brinjals are green, violet & white. Green ones are slender. Purple ones come in 2 sizes--small & big. Some varieties of brinjal ar....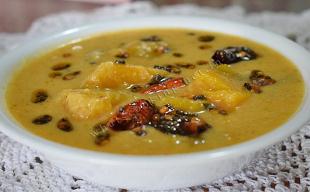 This is a gravy dish to be had with rice. A gravied dish is a must in South Indian meals to be eaten with rice.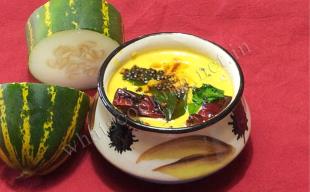 The cucumber used in this recipe is popularly known as Madras cucumber. It is oval in shape with stripes of green and yellow. The flesh is juicy and cruncy and is mainly used for cooking after peeling and deseeding.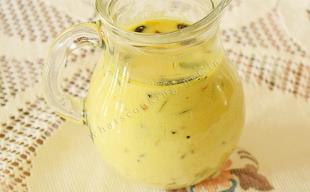 This is a simple seasoned buttermilk curry served with rice. This dish is mainly made at Kottayam(kerala,south India) and surrounding areas. Butter or fat is removed from curd/ yoghurt to make it into a diluted and healthy form, which is then calle....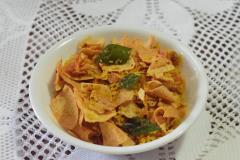 Papadum, in Kerala, Appalm in Tamilnadu, happala in Karnataka, Pappad in rest of India, Poppadum to westerners, many names for this universal favorite. It is a thin, crisp, round shaped wafer made, commonly with skinless black gram lentil. Variations....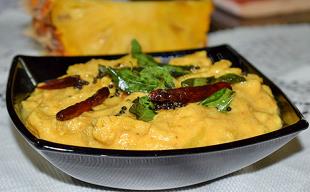 Pineapple curry is an essential dish in Kerala vegetarian sadya(festival lunch), specially onam sadya. This curry is sweet, sour and lightly spicy. Sweetness from pineapple & a wee bit of sugar, sourness of curd/ yoghurt & spiciness from green chilli....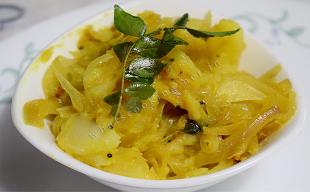 Poori bhaji is a potato and onion curry usually served with poori, deep fried Indian bread.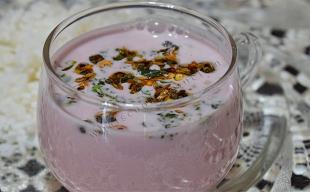 Garcinia indica or kokum is a fruit tree, of culinary and medicinal use. The fruit is dark in colour, purple to black color, and sticky. The fruit is often halved and sun-dried to a semi-dry stage before being used. It is a preferred ingredient in Ma....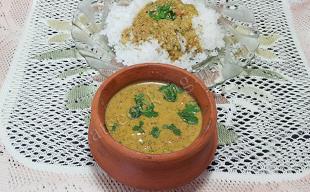 For most of Tamilians, rasam is comfort food. This tangy and spicy dish is supposed to get rid of colds. Some drink it plain as a soup, some have it with rice and it is also drunk as a palate cleanser in between a meal. Rasam can be made with or with....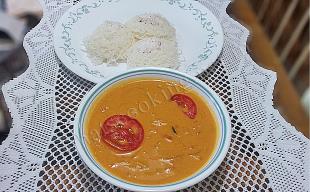 Coconut milk is derived from the creaming/ grinding or pressing of the flesh of the brown coconut and not the tender green ones. After grating the coconut, coconut meat is squeezed to release fresh, thick first extract coconut milk. After this add a ....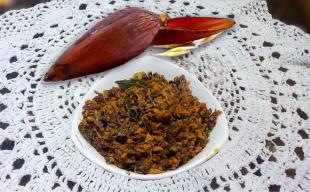 Banana flower is a rich source of fibre. Cow peas are brown in color with black eye.Cowpeas provide a rich source of proteins and calories, as well as minerals and vitamins. Mustard seeds are the small round seeds of various mustard plants. The se....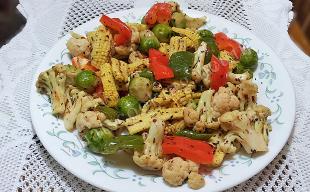 A mushroom (or toadstool) is the fleshy, fruit body of a fungus, typically produced above ground on soil or on its food source. Always check expiry of mushrooms. Mushrooms are extremely porous and soak up water like a sponge. Because they are mostly....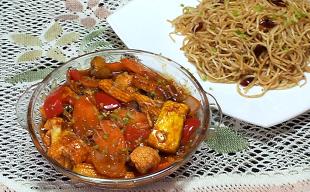 Tofu, from China is also known as bean curd, is a made by curdling soy milk and then pressing the resulting curds into soft white blocks. Tofu has a subtle flavor and can be used in savory and sweet dishes. It is often seasoned or marinated to suit....