Seafood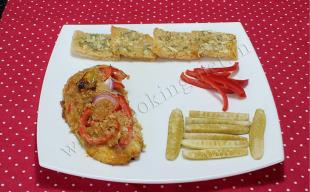 1) Clean and drain water from fish. Apply marinade ingredients on fish and keep ...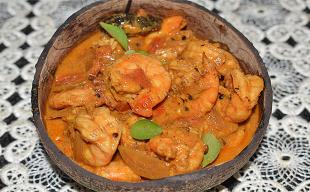 Garcinia indica or kokum is a fruit tree, of culinary and medicinal use. The fruit is dark in colour, purple to black color, and sticky. The fruit is often halved and sun-dried to a semi-dry stage before being used. It is a preferred ingredient in Ma....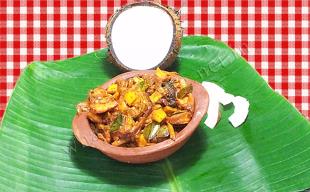 1) Mix half the quantities of ginger, garlic, curry leaves,turmeric and chilli p...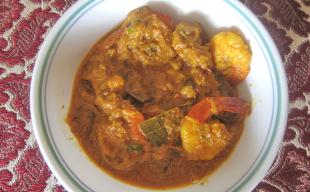 Wash prawns, pat dry and set aside. Heat ghee / mustard oil in a pan on moderate...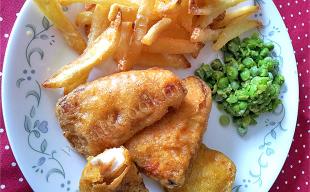 The famous dish of Britain.Fish is battered and fried. Usually Atlantic cod or haddock fish is used. It is served with deep-fried potato chips. It is a common take-away food. A common side dish with fish is mushy peas. The shops selling fish and chi....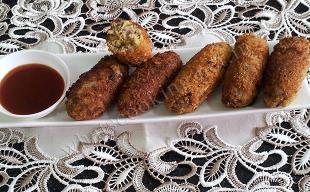 Croquette is derived from the French word 'to crunch'. Croquettes are cigar shaped rolls which are fried after dipping in egg and rolling in bread crumbs. Croquettes are either made with chicken, meat,veggies, boiled egg or fish. It was introduced to....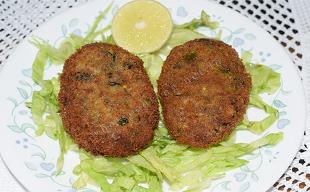 These cutlets can be made into very small rounds and served as a starter. The coating of semolina gives a nice crunchy texture.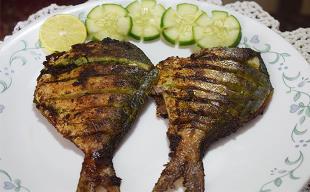 Fish marinated and fried with slightly pungent green chutney.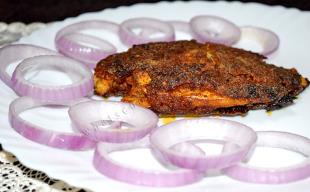 The name 'recheado', originated from the Portuguese word 'reicheade' meaning "to stuff". Recheado is pronounced 're-shea-doe'.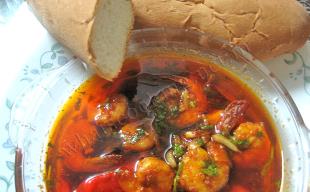 This spicy, garlic prawn recipe from Spain makes a tasty dish which is also very quick to prepare. The Spanish cook and serve Gambas Pil Pil in individual terracotta dishes, one dish per person.
Squid is also known as calamari. Squid is a source of omega 3 fatty acids. Squid is from the same family as cuttlefish and octopus. It has tentacles, and also has a protective mechanism which releases ink when in danger. Squid should be cleaned wel....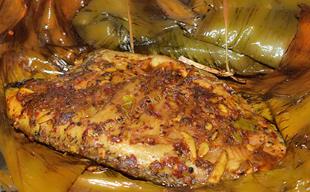 The green chromide is a species of cichlid fish from freshwater and brackish water in southern India and Sri Lanka. It is known as pearlspot (due to black spots on the surface) in English, karimeen in Malayalam, koral in Bengali, kundal in Oriya and....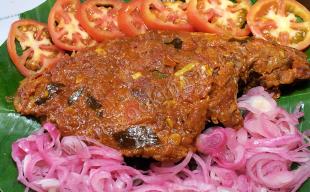 Pearl spot (known as Karimeen in Kerala) has lot of bones. It is a freshwater fish found in Southern India and Sri Lanka. It is known as pearlspot due to black spots on the surface. In India, it is found throughout Kerala, especially in Kerala Back....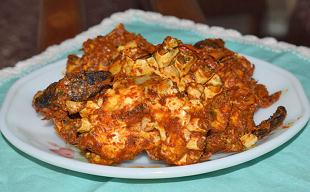 Crabs are prepared and eaten as a dish in several different ways all over the world. Some species are eaten whole, including the shell, such as soft-shell crab; with other species just the claws and/or legs are eaten.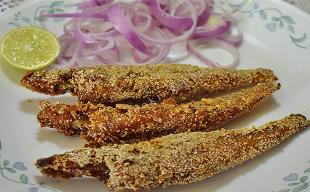 Lady fish is white and slightly longish. It is a very clean looking fish. Fried lady fish is a speciality of Mangalore, a town in Karnataka, South India. Mangalore is a coastal area. Lady fish is called kane (read as kaa-ne) in local language.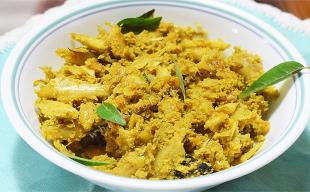 Anchovies are tiny fish. They are known as kozhuva or netholi in Malayalam. Bigger anchovies are also available, which will not taste as the tinier ones, as the fish, after making this dish will be in a crumbled form and bones cannot be seperated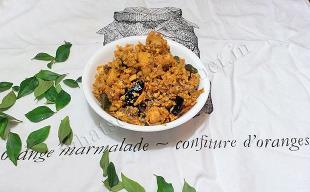 Podimas is popular in Tamilnadu. Podi means powder in tamil. This dish is normally crumbled or scrambled. In this version we are using fish.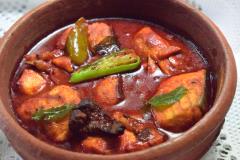 This a traditional recipe of Kerala, South India, popular among the christaians of kottayam and surrounding areas. The dish is known as " meen vattichathu or pattichathu" depending on the region. It is eaten both with rice and tapioca. In earlier day....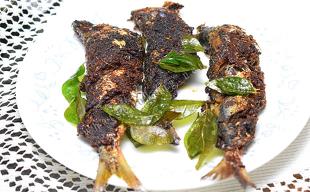 This fish fry is different from normal fish fries as it uses fresh green pepper corns for spiciness. This dish is popular in the toddy shops of kerala. Pepper is a common spice grown in Kerala, South India. Sardines are rich in omega 3 fatty acids. ....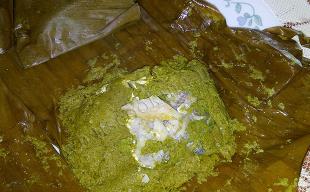 Patra ni machhi is a traditional Parsi dish which is served during Parsi weddings.Patra ni machhi translates as "fish wrapped in a leaf", "patra" is leaf in Hindi and "machhi" is fish. It's fish covered in green chutney, wrapped in banana leaves a....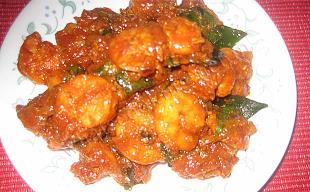 Prawn Balchao is a spicy seafood dish . Balchao was introduced by Catholic Portuguese to Goa during colonization(balchao is Portuguese for pickle). Balchao is almost like pickling and can be made days in advance and can be had without reheating. C....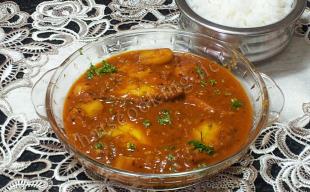 Tenga maach is a lightly sour fish dish. The most popular dish from Assam, the tenga (fish sour), is an indispensable part of an authentic meal in Assam. The most common and popular tenga is made with tomatoes, though ones made with thick skinned elo....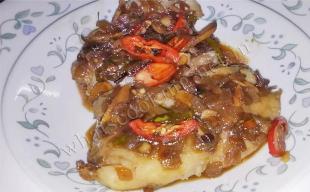 Basa is a fleshy fish, native of Indochina. Fillets of fish are a strip of fish without bones. Fish sauce is a dark colored liquid extracted after the fermentation of fish with sea salt. It is used as a condiment in various cuisines. It can be made ....