Soups, Starters And Accompaniments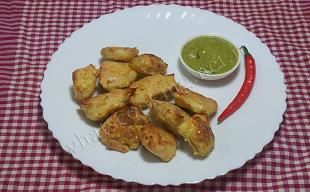 Tikkas are small cubes of meat grilled in a tandoor or oven. Afghani murgh tikka is succulent pieces of chicken, which are melt in the mouth,and not very spicy. Fresh cream is wholesome thick,fatty dairy product with a silky smooth texture. It can b....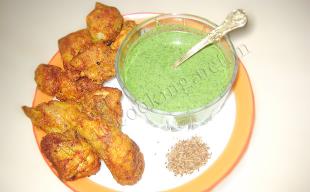 This is a famous dish from Amritsar,Punjab, India, sold by street vendors. Any type of fresh water or salt water fish can be used. Gram flour, also known as garbanzo bean flour, chickpea flour, or besan, is flour made from ground chickpeas.It is a ....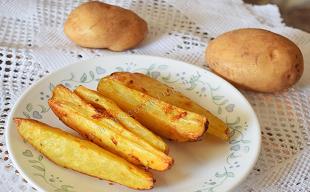 1) Cut potatoes into wedges with skin. 2) Blanch them with salt till just cooke...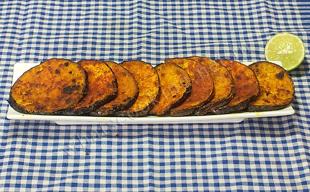 Begun bhaja or fried eggplant is one of the simplest dishes one can cook. This delicious dish is crispy from outside and soft from inside. The only dis advantage with this dish is that, Aubergine or brinjal absorbs a lot of oil. There are different ....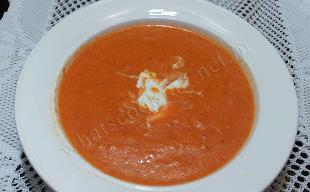 Bell peppers are also known as capsicum in many parts of the world. They come in red, yellow and green colors. Green is commonly seen and used. Red is the sweetest among the three.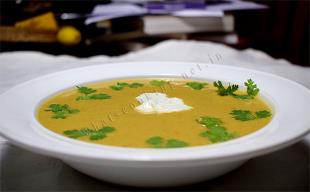 Cauliflower belongs to the same plant family as broccoli, kale, cabbage. Once blanched florets lose a significant amount of their sulfur which is responsible for their odor. The head of the cauliflower which is eaten is known as 'curd'. Cauliflowers ....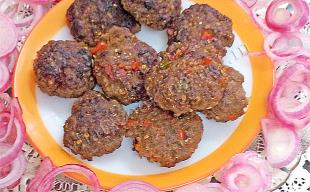 Chapli kebab is from Peshawar in Pakistan.Its popular in Afghanistan also.Chapli is derived from the Pashto word 'chaprikh', which means flat.Pashto is the language of the Pashtuns, which belongs to an Iranian group. It is the official language of A....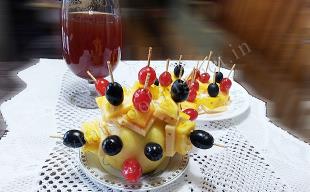 Cheese is paired usually with wine. These cheese bites can be served as a cocktail snack. Olives are salty and if the cheese being used is very salty, then pair cheese with cherry and pineapple. Cheese is supposed to give a lining to the intestine w....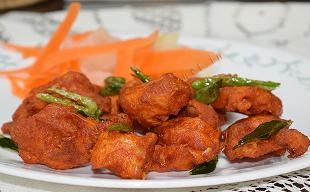 There are various stories regarding the origin of the name 65. But the most believable among them is that `65` denotes the age of chicken-65 day old chicken is used.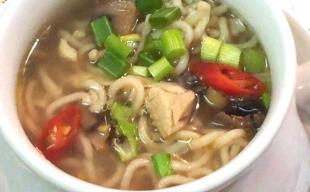 Chicken soup has the reputation for being a remedy for colds and flus. By using chicken breasts, one can almost make the dish fat free.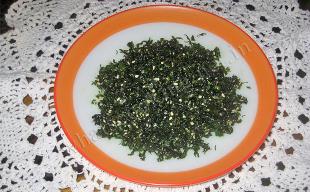 Crackling spinach, also known as crispy sea weed , is a popular dish in Chinese restaurants. Although known as crispy seaweed, it has nothing to do with seaweed. It is called crackling spinach as fried spinach crackles in your mouth. Spinach is a g....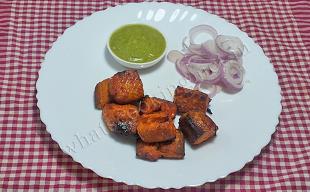 Fish tikka are small pieces of fish that is originally cooked in a clay oven called tandoor. In the absence of tandoor we have grilled it in a normal oven(OTG--Oven Toaster Grill). One ingredient that gives zing to snacks, tandoori dishes etc. is ch....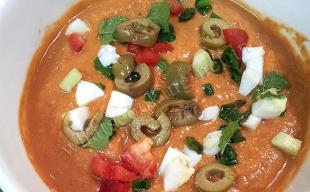 Gazpacho is mostly consumed during the summer months, as it is served cold. Gazpacho remained popular with field workers to keep cool during the summer and to use available ingredients such as fresh vegetables and stale bread. Traditionally, gazpach....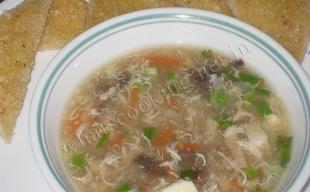 Traditionally hot chillies are not used in this soup. The hotness comes from using white pepper powder liberally and sourness from the use of vinegar. Tofu has its origins in China. It has high protein content. To make tofu, fresh soya beans are soa....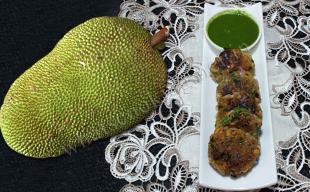 Jackfruit is known as kathal in hindi. This kebab is famous in Indore, Madhya pradesh. Jackfruit is considered as vegetarians meat. Jackfruit can be had in both raw and ripe forms. A good source of dietary fibre.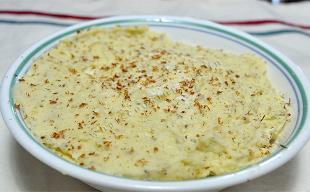 For a low-calorie or non-dairy version of mashed potato, milk, cream and butter can be replaced with stock or broth. French version adds egg yolk to make Duchess potatoes. It's then piped through a pastry bag into flowery shapes/ rosettes. It's t....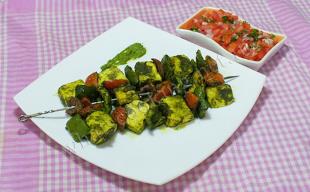 Hariyali is a Hindi word meaning green. These tikkas are green in color. Dried fenugreek leaves from the kasoor region of Pakistan is known as kasuri methi. It is the dried leaves of the fenugreek plant. It is an herb with slightly bitter but addict....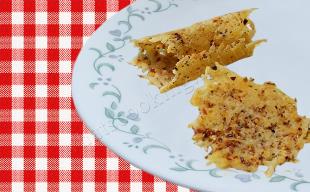 These are crisp little wafers made with parmesan cheese. Parmesan cheese is also known as Parmegiano reggiano. It is hard cheese orinating from Italy. This cheese is salty and slightly granular. In Italy it is used in pastas ,pizzas and in some sauc....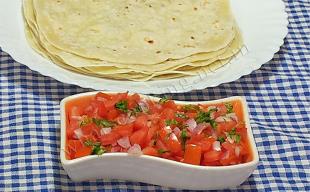 Pico de gallo, is also called salsa fresca or Salsa Mexicana. It is a fresh, salad made from chopped tomato, onion, coriander leaves, fresh serranos chillies (typical to Mexico), salt, and lime juice. Translated to English Pico De galo means "rooste....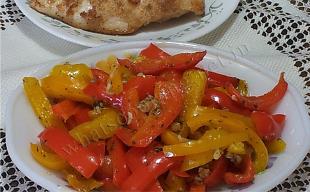 Poivrons is a French word meaning peppers (bell peppers). Try to use at least two different kinds like yellow, green or red for this colourful dish. This dish is either served cold as an appetizer with sardines, salami, or vegetable salads, or hot, ....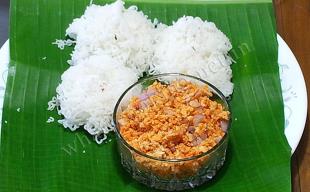 Sambol or Sambal is an accompaniment to Srilankan meals. There are different types of Sambols. Sambols are used as accompaniments with rice, hoppers or string hoppers. Coconut belongs to the Palm family. Coconut fruits are large and nearly round. ....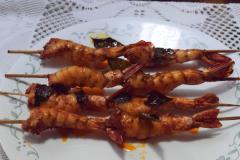 This simple grilled dish has all the authentic Kerala flavors, curry leaves and coconut oil. Curry leaves are native to India. The green leaves have a distinct aroma which can be experienced while cooking. Apart from being widely used in many cui....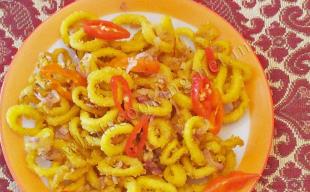 Despite the name, sichuan / schezuan pepper corns it is not related to black pepper. This pepper has a tongue numbing effect. It is available in stores selling baking ingredients or speciality stores.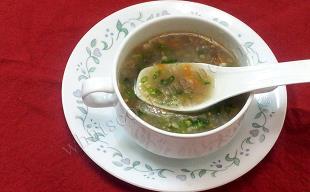 Fresh cream-style corn recipe is made with freshly scraped corn, butter, and seasonings. It is an almost soupy version of sweet corn. Unlike other preparations of sweet corn, creamed corn is partially puréed.Sugar and starch are also added.Cream sty....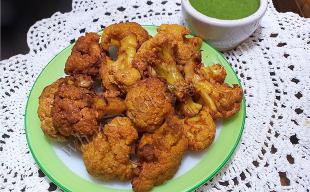 Eventhough the name of the dish says tandoori gobi, infact cauliflower is cooked in an oven replicating the taste of tandoor minus the smoky flavor.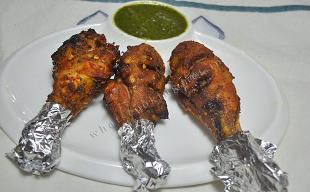 1) Chicken drumsticks are chicken legs without the thigh section. 2) Tangdi (hindi word), means leg.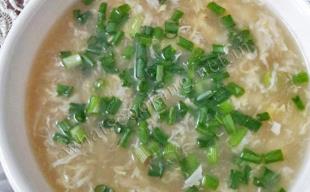 Chinese rice wine is also known as Shao Xing. This alcoholic beverage is made from rice. In China, it is also known as yellow wine. Rice wine is made by the fermentation of rice starch . Beef is the meat from bovines, especially cattle. It is used i....