DISH NAME : BLACK FOREST CAKE(VEGAN AND DAIRY FREE )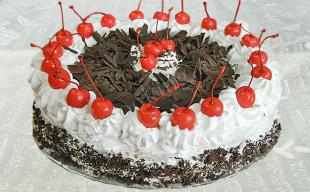 Preparation Time : 45 minutes
Cooking Time : 15 minutes
Chilling Time : overnight
Baking Time : 30 minutes
Description
There are 2 variations to the origin of the name Black forest cake. One version says that it got its name from the black forest region of Germany. The Black Forest area in Southwest Germany is covered with fir and pine trees. According to another version,the cake is named after the specialty liquor of that region, known as Schwarzwalder Kirsch which is distilled from tart cherries. This is the ingredient, with its distinctive cherry flavor and alcoholic content, that gives the cake its flavor.
Note
1) I made the cake in 2 seven inch tins and cut each cake into 2. It was a really tall cake. Will be a bit difficult to put in a cake box. You can even make this in an 8 inch cake tin and cut into 2.
2) When i divided the batter between 2 tins, each tin had about 375 gms. of batter.
3) For making cakes, always have the ingredients at room temperature, unless otherwise stated.
4) Vinegar can be sustituted with equal quantity of lime juice.
5) I used Morde dark compound chocolate. If you cant find this use ordinary chocolate bars approximately 250. Grams. Either dark or milk chocolate can be used. or use pure chocolate instead of compound.
6) Dont keep the whipping cream (in the icing bag) in freezer. It will form ice crystals and will not hold shape when piping.
7) I used Tropolite non dairy whipping cream. You can either use this or Richs non dairy whipping cream.
Method
1) Keep whipping cream from freezer to fridge, so that ice crystals melt. Only then will the cream whip properly.
For Cake:-
1) Preheat oven to 180 degree C. Grease and line 2 seven or 8 inch cake tins.
2) Mix flour, cocoa powder and baking soda and sieve thrice to combine as well as incorporate air.
3) Beat sugar and oil till its creamy. Now add in vinegar and vanilla essence and mix well again.
4) Add flour mix into oil-sugar mix, little by little alternating with water. and folding in gently using a spatula. The last addition should be flour and not water.
5) When done divide the batter between 2 cake tins.Bake for 30 to 35 minutes. Start checking after 25 minutes.
6) Insert a skewer at the tallest part of the cake and if it comes out clean, it means the cake is done.
7) Remove and cool the cake in the pans on a cooling rack. Then turn out the cakes onto a cake cooling rack. When cakes are cooled completely they can be frosted.
8) Before frosting cut each cake into two horizontally. Peel a few chocolate curls from the chocolate bar using a peeler.Grate rest of the chocolate.

Sugar syrup:-

1) Boil sugar and water together till the syrup is thick.No need to attain one string consistency.

Frosting:-

1) Keep aside about 20 to 25 cherries.
2) Pit (remove the stone) the remaining cherries. Then cut cherries into small pieces.
3) Pour sugar syrup on one piece of cake.Spread the cherries on that piece of cake.
4) Whip cream to form peaks. keep about 2 cups of whipped cream in an icing bag in fridge.Spread the remaining thickly on the cake above the cherries. Keep the second piece on top of the first piece above the whipped cream.
5) Pour sugar syrup, then cherries and whipped cream.
6) Continue with all the four cakes. Then spread the icing on the sides of the cake. Spread the grated chocolate around the cake and using a spatula, just lift it to spread on the sides of the cake. Spread some grated chocolate on top of the cake, leaving the outer edge. With the cream kept in icing bag, pipe out rosettes on the outer edge and at the bottom of the cake. Keep one cherry each on the piped rosettes. Garnish with chocolate curls.
7) Keep in the fridhe to chill.
Serving Suggestions
Serve chilled.