About The Creator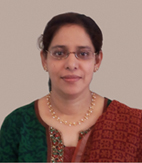 While completing my Masters Degree in Economics & Diploma in Marketing Management from Bombay University, cooking was never on my mind. Kitchen activity was restricted to helping my mother in the kitchen. Having lived in the cosmopolitan city of Mumbai gave me the opportunity to savor food from different regions & relish different cuisines.
My brother's admission to Hotel Management College was the eye opener to realize that cooking can be a great activity & my role changed from eating to cooking too. With growing interest, I patiently played the role of an assistant to my brother's initial forays into the kitchen. Being a novice, it was a real learning experience-especially the finer nuances of cooking. One thing led to another. My interest turned to passion, so much so that I went on to do a Diploma in Home Science, concentrating on the Baking & cooking classes, almost ignoring the other sessions. The Diploma gave me opportunity to be trained by professionals forming the foundation of my later day trials & experiments.
My food crazy family was game enough to be guinea- pigs & gave me ample opportunity to experiment & improvise. Things went to a higher level when I got married to a food loving person, who though, initially doubted my culinary expertise, started relishing my food. My husband gave me good support by being a subject for my experiments & offering constructive criticism & valuable feedback. Helping out in my husband's software firm, DUKESOFT put my cookery experiments on the back burner. Seeing my difficulty in managing my recipe books, my husband developed a software package, where I could enter all my recipes. This gave me the option to search recipes, Cross index ingredients & search by Category, Origin. This package resulted in a CD, "What's cooking", which was put up in DUKESOFT'S stall at IT 2004 exhibition held at Cochin in Kerala. The response to "my corner" was overwhelming. After that I held classes at Reliance Web World for their Java Green Cyber Mom program at Cochin. Later on I was called to conduct such classes at different locations.
Also writing a weekly recipe column for local English daily (City Journal, thrissur) for 2 years from July 2011 to June 2013 was also a real exciting & learning experience, since I happened to get live feedbacks from people who read it.
I am thankful to my husband, my parents & family, my in-laws & my colleagues for bearing with my culinary experimentation. A very special Thank You to my brother who patiently taught me during my initial learning years & for still being my greatest critic.
All the recipes in this site have been tried, tested & modified by me in my kitchen.
I am sure you will have much fun making these dishes as I had in trying them.
Sarama LouisThrissur, Kerala, India.